This article is related to problems detecting the smartcard reader after updating Windows 10 to v1903 and if our drivers failed to add registry keys during installation once you plug the reader in usb port.
If you have a communication with reader issue and/or the kind of message "Please check the reader is properly plugged" there are multiple reasons for that (reader damaged, system file missing, smart card service issue…). But one of the reasons can be a lack of information in the registry keys.
The key concerned is: [HKEY_LOCAL_MACHINE\SOFTWARE\Microsoft\Cryptography\Calais\Readers] (see figure below)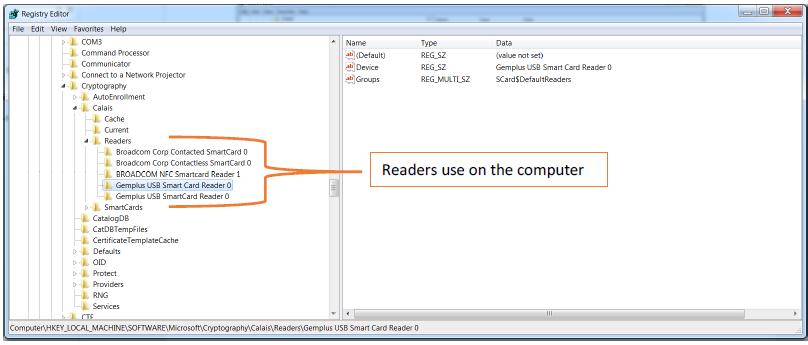 After upgrading to Windows 10 v1903 it removes all custom sub keys (see figure below)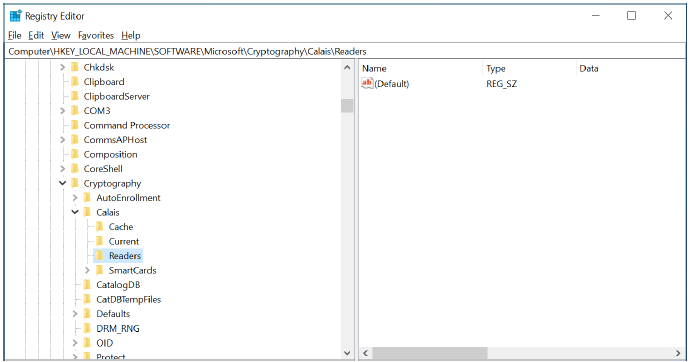 If you are on Windows 10v1903 we recommend updating to the latest build:
1. Unplug your smartcard reader from your usb port
2. Follow Microsoft instructions to apply the KB4515384 (OS Build 18362.356) here : https://support.microsoft.com/en-gb/help/4515384/windows-10-update-kb4515384
3. Reboot the computer and plug the smartcard reader in usb port

In case the update did not solved the issue or you are using other OS versions you can try restoring the Gemalto reader's keys using the following process:
4. First thing, you have to be logged with a local administrator account with the right to modify the configuration of the computer.
5. Unplug the readers
6. Download the file AddReader.zip from our KB0019986 webpage or using the direct link: https://supportportal.gemalto.com/sys_attachment.do?sys_id=720b644a4fbfbb84873b69d18110c77e
7. Create the folder "c:\GemaltoTemp" and extract AddReader.zip into this directory
8. Double click on the file "AddReader.reg"
9. Click yes when you are asked to confirm the action
10. If everything went well, a message say : "The keys and values contained in "path" have been successfully added to the registry", click "ok"
11. Reboot the computer and try again to connect the reader.
12. You can delete the folder "GemaltoTemp".

NOTE:
You must have administrator privileges to modify registry keys and create folders on C:\.

If you are still having the same error message you can try reinstalling the reader driver using the following process:
1. Uninstall the driver from control panel and device manager using the option ticked "Delete the driver software from this device".
2. Then unplug the reader,
3. Reinstall the driver
4. Reboot.
5. Plug the reader back in usb